Welcome back to the Reindeer Games! Today, we begin our third event of the games – the sprint race. Santa's best and swiftest reindeer will race around a specially made track – a three-mile oval – to see who's the fastest deer.
Of course the reindeer are so fast that they can make it around the track in just a few seconds! So it makes it hard for our many fans to see the race. So to help our loyal fans, Santa's elves made some special glasses before the games began. When the North Polian folks put on these glasses, it actually slows down what they are watching so they can see it better.
"That's amazing," said Rudolph. "I need to get a pair of those glasses. You know the reindeer are so fast, I have trouble seeing them around the track without some help." And so the first round of the sprint race is set to begin, as the many, many fans, all with special elfian glasses, watch with great excitement. And we're at the starting line, "Ready, set, go!" say the official elves.
And their off! And, wow, they're finished!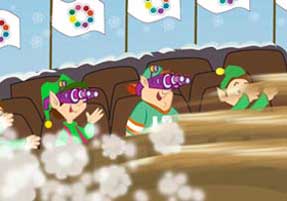 "Incredible," said Rudolph, "the reindeer were faster than ever. Santa will be pleased to see that his reindeer will be ready to deliver presents all over the world – well, if we can find Santa that is." And so, after looking at the elfian instant replay machines, it seems that Dasher, Comet, Donder and Prancer just nipped the rest by half an antler or so. And so those four are on to the final round tomorrow.
Check back to see who will win the third event of the games. We've had two winners so far -- Prancer took the gold medal in our first event, the high jump, and Cupid won the gold in the long jump.
And after this event, we will have the Around-the-World Marathon, the Figure Skating competition, Speed Skating, the Obstacle Course and the 2222 Mile Marathon.