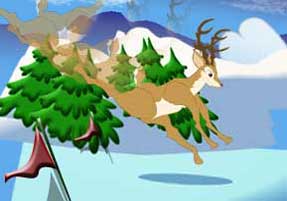 The Reindeer Games continued on Day 4 with an exciting conclusion to the long jump competition. All eight reindeer jumped more than 24 miles each on the first day, and all made superb jumps once again on the second day.
But only one can win, and after another round of jumps, Vixen earned the gold medal with a leap of 26.5 miles and Dancer took second place with a jump of 26.1 miles.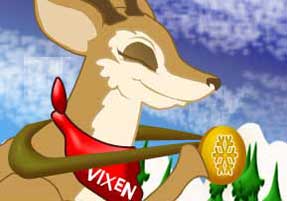 All the reindeer jumped their best and all put on a good show for the many elves and other onlookers at the North Pole. One of those was Rudolph, who isn't allowed to play in any reindeer games, as many of you know. But Rudolph will be at the games to cheer on his fellow deer.
"I enjoyed the long jump very much," said Rudolph. "All my deer friends are in top shape for the big night this year. Santa will be pleased."
The Long Jump was good practice for Christmas Eve when the reindeer will lead Santa's sleigh all around the world, bringing joy to so many children.
Check back tomorrow when the Reindeer Games will feature the Sprint Race. After that, the Great Eight will compete in the Around The World Marathon, Figure Skating, Speed Skating, Obstacle Course and the 2222 Mile Marathon.