Eventually, Mikee and Rudolph organized the search for Waldo. Meanwhile, Waldo, who had been wandering for days for bullying at the Thanksgiving dinner, slipped on the icy path and flew towards something big, white, and furry. Actually, it WAS somebody big, white, and furry! Poor Waldo flew directly into Yeti's ear!
Poor Waldo was waving his arms through the air, trying to grab something, anything he might hold, and escape falling deeper into Yeti's ear.
"Oh, a branch in the ear? This is my lucky day!" said Waldo.
Waldo could heave a sigh of relief, or at least he believed so. What he thought to be a branch was a thorn that had been pinned in Yeti's ear for a while.
While Waldo was hanging on the thorn, thinking about how lucky he was, Yeti started shaking her head, trying to release from the uninvited visitor. Poor Waldo flew through the air once more, but this time he ended up in soft snow holding the thorn in his hand.
Yeti couldn't believe it! After a long, long time, she didn't feel that sharp pain in her ear! Waldo pulled the thorn out and cured Yeti!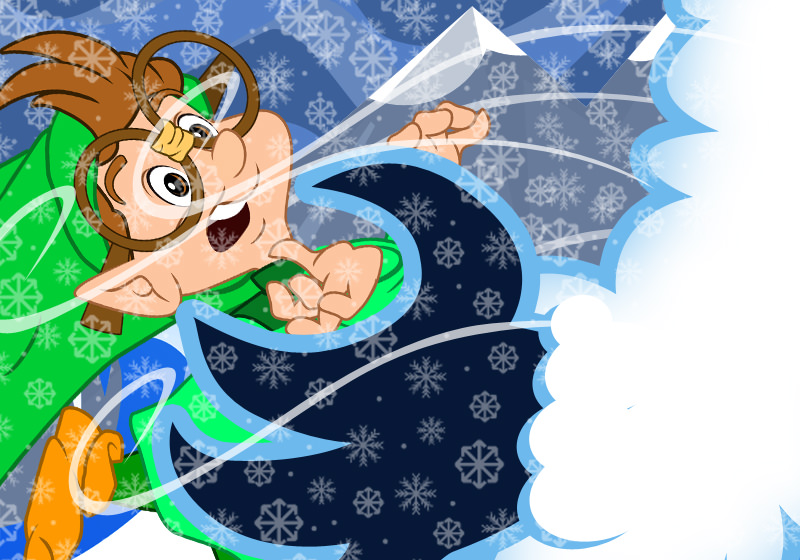 Yeti stretched her arms toward Waldo, who was shaking from fear, still holding the thorn. When he saw Yeti's giant paws and claws moving toward him, he started digging the snow in a panic, trying to escape. However, his tinny frozen legs weren't fast enough for Yeti.
"Noooo! Please! Let me go!" screamed poor Waldo.
What do you think happened after Waldo meets Yeti? What did Yeti do to him? You'll find it out ONLY on the North Pole Times!