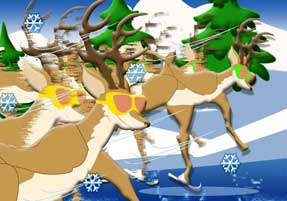 Welcome back to the Hoojamawazit Skating and Ice Cream Palace for the first round of the Speed Skating competition – our sixth event of the season.
So far, our gold medal winners have been Cupid in the High Jump, Vixen in the Long Jump, Comet in the Sprint Race, Blitzen in the Around-the-World Marathon and Prancer in the Figure Skating competition.
And after the two-day Speed Skating event, our reindeer will have only two events left – the Obstacle Course and the 2222-Mile Marathon – before the Closing Ceremonies.
Today's event packed the house at the Ice Cream Palace for the one of the most popular events of the Games. The Reindeer will race around the icy oval at blazing speeds to the delight of the elfian crowds.
This year, Santa's elves have prepared a special track just for the event, although it was not easy.
"The reindeer go so, so fast around the track, sometimes the ice starts melting," said Rudolph, on-hand for commentary but still not allowed to play in any reindeer games. "Earlier this year, Gizmo Elf came up with a track that uses a super-secret machine beneath the ice that keeps it colder than even the North Pole!"
Indeed a good idea. Today, all the reindeer will race around the one mile-long oval ten times at super-fast speed. The top four finishers will move to tomorrow's final round. Hopefully the track will hold up and the race will be exciting.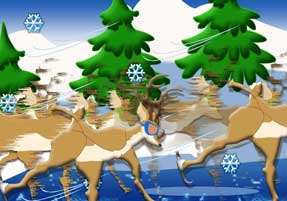 And we are ready! All eight reindeer are lined up at the starting line – and they're off!
"Oh my, what a start," said Rudolph. "Every deer is moving so fast. I cannot see who's even in first place."
Well, thanks to yet another magical machine, the super-slow motion Elfian TV machine, we can see that Comet has taken the early lead with Blitzen just behind. And then it's Dasher and Dancer a few inches back. And finally Cupid, Prancer, Vixen and Donder only a few more inches behind.
Around and around they go the track at blazing speed while the crowd goes wild with excitement. Heading into the final lap, it looks like Blitzen and Comet have a slight lead over Dasher, followed by Donder and Dancer.
"My it's close," said Rudolph. "Hopefully the official elves are watching closely."
Indeed they are, but with a little help from the super-slow motion machine. And coming around the final turn and to the finish line, it's very, very close – and the top four are?
Looks like Comet, Blitzen, Dasher and Donder are the top four in just 11.3 seconds! They are just an antler or so ahead of Vixen, Prancer, Dancer and Cupid. The top four will now move on to tomorrow's exciting final round and race for a gold medal.
Check back to see who will win the sixth gold medal of the year.