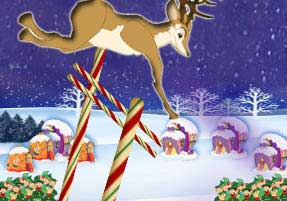 Welcome back to the Reindeer Games! Today we continue with the second round of the High Jump competition, which is the first of eight super events. Following this event will be the Long Jump, Sprint Race, Around-the-World Marathon, Figure Skating, Speed Skating, the Obstacle Course and Snowboarding. In each competition, Cupid, Comet, Dancer, Donder, Prancer, Dasher, Vixen and Blitzen will show their very special talents as they get ready for the Big Night on December 24 when they pull Santa's sleigh all around the world.
In the High Jump, each reindeer will try to jump up and over the bar, which starts at a very high place and moves even higher as the event goes on. Whoever jumps the highest will win the first of the eight gold medals to be awarded at the Games.
Yesterday, the Official Elves set the bar at 1 mile high and each reindeer made a successful leap.
"We're off to a great start," says Rudolph. "Let's get the second day started."
And so we head out to Santa's Workshop Arena for the competition. The crowd is ready and excited for the action.
The bar is now set at 2 miles! Cupid is up first. He steadies himself and then begins his approach. He picks up speed as he moves closer to the bar. He plants and soars way up in the air.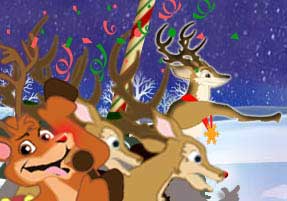 "Oh my, it's a beautiful jump," says Rudolph. "He's up and over cleanly."
Next up is Dancer. Dancer makes a calm approach and then turns for the bar. She quickly picks up the pace and jams her hoof into the turf and takes off perfectly. Another good jump over the bar. "A very nice leap," says Rudolph. "This is going to be a close competition." Dasher, Blitzen, Prancer, Comet, Vixen and Donder all make good jumps as well on Day 2 and so all the deer move on to tomorrow's final round. Check back to see who will win the first Gold Medal of the Games!