Welcome back to the Reindeer Games! The games continue today with the final round of the very, very difficult Around the World Marathon.
It's been a challenging Marathon so far for the Great Eight, as they've gone from Canada, through all 50 United States, across Central and South America, then to Australia and Asia.
Will the reindeer be able to finish strong and show Santa that they are ready for the Big Run on Christmas Eve? Let's hope so, and let's hope we get Santa back from his trip in space too!
Well, let's check in on the race and see how our deer are doing. As we head toward the coast of Japan, it looks like Dancer has a slight lead, just ahead of Vixen, Prancer and Cupid, who is just an antler behind. Then it's Donder, Blitzen, Dasher and Comet not far off the pace.
"It's going to be a close race," says Rudolph. "A very close race."
Indeed it is, as the deer head for China and then Russia and then through Europe. And then it's up and over the United Kingdom, toward Greenland and finally up toward the North Pole.
At this point, it seems that Prancer has the edge, just ahead of Donder, Vixen and Blitzen. Yet, all the deer have performed well, and Santa will be pleased, no matter who gets the gold.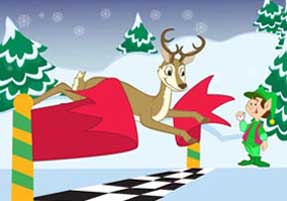 Finally, the Great Eight are closing in on the North Pole for a fantastic finish. The Official Elves are ready at the finish to see who wins. It's going to be very, very close.
And there they are, finally at the North Pole, very close to the finish line! After a long and tough race, the reindeer are almost home. Coming down the final stretch, it's very close, but it looks like Donder is the winner and Prancer is second.
A fantastic finish to a great race.
And so Donder is the fourth medal winner of the games. Donder joins Prancer in the High Jump, Cupid in the Long Jump and Dasher in the Sprint Race as the gold medal winners.
Check back tomorrow for the start of our next event, the Figure Skating competition, which will be followed by Speed Skating, the Obstacle Course and the 2222 Mile Marathon.