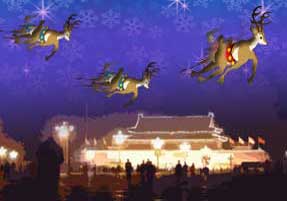 The Reindeer Games continued with another long and grueling leg of the Around-the-World Marathon! And Santa's Great Eight have shown magnificent speed and flying skills in the long race, all the while dazzling many puzzled on-lookers along the way.
Yesterday's first day of the Marathon saw our eight reindeer race from the North Pole, through Canada and the United States and then up to Alaska.
And today's leg proved to be even more exciting. With Comet leading the pack, the race headed across the Yukon and then over the Bering Sea into Russia. The deer then headed south and flew over Japan and Korea before heading west for Bejing, the capital of China.
Heading south from Bejing, Blitzen then took the lead as reindeer followed the path of the very famous 1114-mile Grand Canal, which is the longest ancient canal in the world. Starting at Beijing it passes through Tianjin and the provinces of Hebei, Shandong, Jiangsu and Zhejiang to the city of Hangzhou. The oldest parts of the canal date back to the 5th century BC.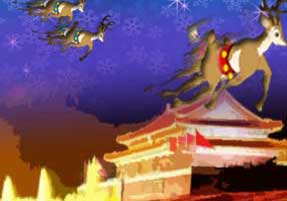 At Hangzhou, the race headed south to Hong Kong and Macau and then over Vietnam, Laos, Cambodia and Thailand before heading back east to the Philippines, where Dancer then edged in front of the streaking pack.
Our race then zoomed back over the Pacific Ocean and into Mexico, down through Central America, over the Panama Canal and into Colombia. Our deer flew over the historic city of Manaus, Brazil, in the center of the Amazon rainforest and tracked the mighty Amazon River all the way to Macapa, near the mouth of the great river.
Then heading north over French Guiana and Devil's Island, Prancer steamed into the lead as the race moved north towards the United States. After heading up the eastern seaboard, our deer came to Washington, D.C., and the White House, home of the President of the United States, and the end of the very tiring second leg.
Check back tomorrow for the exciting third leg of the Around-the-World Marathon!