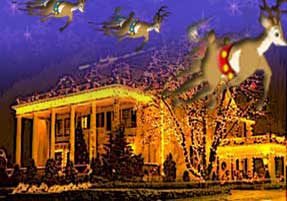 Welcome back to the incredible Reindeer Games! After three events at the North Pole, the Games will continue with the first event outside the icy northerns. And what an event it will be! The Around-the World Marathon will take Santa's eight reindeer on a 10,000-mile journey across six continents in a test of speed, endurance and the magical flying ability of our very special reindeer.
"I am excited but nervous, too," said Professor Ellie Elf. "Surely it will be fun to see who can win this long and tough race, but all the reindeer must finish the race in good time, or our big journey on Christmas Eve may not be possible. And I wouldn't want to disappoint the children of the world."
Today's first leg of the marathon will take our Great Eight out of the North Pole, through Greenland, down through Canada and across the United States.
As the starting bell neared, a large crowd has gathered at the starting line for the early morning send-off. The reindeer appeared ready to go.
"My this will be fun," said Rudolph. "All the reindeer look excited and anxious for the start."
With all eight on the starting line, the official elves fired the gun and we are off!
As the deer headed south, Dasher took the early lead over Greenland -- a very famous place, which happens to be the world's largest island and home of the world's largest national park. After an exciting trip over Greenland, the reindeer then moved southwest over the Baffin Sea toward Canada.
Dancer made a strong move as the race headed to Newfoundland on the Canadian coast. With Dancer flying beautifully in the lead, the race headed west to Quebec and south to Montreal, where the deer entranced the largest French speaking city in North America.
Prancer edged into first place by an antler at this point, and the race the headed south into New York state and west past Albany, Rochester and Buffalo.
Vixen showed her speed and skill, taking first place as the Great Eight then flew across the Great Lakes and then south over the Mississippi River toward New Orleans.
Comet made her move at this point when the race took a sharp turn and headed west across Texas, New Mexico, Arizona and toward California.
Heading up the coast, the deer flew beautifully over Los Angeles and San Francisco as bewildered and excited onlookers stopped their cars on the Golden Gate Bridge to see the show.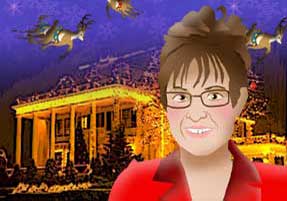 And then it was Cupid taking the lead by a nose when the deer raced through the American Northwest and back up the Canadian coastline towards Alaska.
Donder was in the lead when the race moved through British Columbia and toward Anchorage, Alaska. And finally, Blitzen grabbed the lead when the race headed for our final point of the first day -- Wasilla, Alaska -- home of the former Governor Palin.
"What a treat to have the Around-the-World Marathon stop in my hometown," said the Governor. "We are pleased and proud to host the reindeer as they rest up for the second leg of the race tomorrow. Moose-burgers for everyone!"