After an exciting finish to the Long Jump yesterday, the Reindeer Games continued with our third event, the Sprint Race.
So far in our first two events, Cupid has a gold medal in the High Jump and Vixen has a gold in the Long Jump. The North Pole is buzzing with excitement over the games, and that continued today with the Sprint Race.
The official elves have been marking the course for days and have finally finished. A five-mile straightaway course at the North Pole has been staked out for the competition. Five miles is usually a long distance to run but for the reindeer, it's but a short spin for Santa's Great Eight.
"This should be an exciting three days of racing," said Rudolph, on hand for commentary. "Who will be the fastest reindeer of them all? I wish I knew!"
The top four finishers in today's race move on to tomorrow's semi-final round. Comet, not surprisingly, is a favorite, given her blazing speed, but Dasher also will challenge for a gold.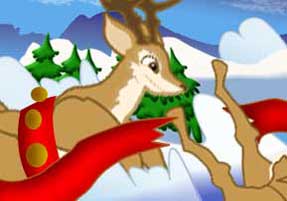 The elves were out in full to watch the first round, and the race course was lined with many on-lookers. But they didn't see too much. The blazing speed of the reindeer made the race almost impossible to see.
After a quick start it was Dasher, Comet, Blizten and Prancer taking the first four places, all in less than 7 seconds!
Check back tomorrow for the semi-final round.