The Reindeer Games are coming! Just like every year, the games will begin on the Monday following the American holiday of Thanksgiving. Santa's Great Eight--Dasher, Dancer, Prancer, Vixen, Comet, Cupid, Donder and Blitzen--will compete against each other to brush up on their skills as they prepare to pull Santa's sleigh on the "Big Night."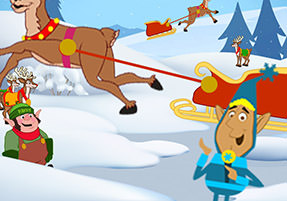 Who is the fastest? Who will jump the highest? Who's best at maneuvering on icy roofs? Sports Reporter Timbo Elf will recap the daily games EVERY day throughout the entire event.
From Speed Skating to the High Jump, the Around the World Marathon, to the Long Jump, we will let you know who wins the gold.
The Reindeer Games. Right here on The North Pole Times - Santa's OFFICIAL News Source. #1 in Santa's News! Trusted Worldwide!