It's the Reindeer Games and we're back! Today is the second day of the High Jump event at the Games.
The first high jump competition in the world was held many years ago in Scotland. It is usually a warm-weather event, but our reindeer can do just about anything in the ice and snow and cold! And that includes jumping very high.
The top four reindeer from yesterday's first round, Vixen, Donder, Blitzen and Cupid, will compete in today's second round. The top 2 after today will try for the fifth gold medal of the Games tomorrow. So far, gold medals have been awarded to Comet in the Speed Skating event, to Blitzen for Ski Jumping, Dancer in Figure Skating, while Dasher won the first-ever Luge competition.
And the three remaining events in the Games are the Around-the-World race, the Snowboarding event, and finally, the Cross-Country Skiing event.
Now it's time to head out to the High Jump area with our very famous host, Jim McSnowflake Elf. Take it away Jim!
"Thanks guys! And welcome to all our fans. Today, the reindeer will compete in the second round of the High Jump. The reindeer have many talents and can run fast and jump high, and for sure much higher than a person! In fact, only one person has ever jumped more than 8 feet (that's 2.45 meters)! But the reindeer can jump much higher than that." Yes, and let's see how they do it. Here we go for the second round. First up is Cupid. Cupid is ready and begins the approach. Cupid plants well, and is up and up and up and over the big Christmas tree! It's a nice jump for Cupid, that's 5,439 feet! That's a very good jump!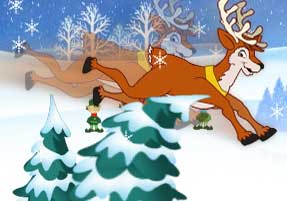 Blitzen is next. Remember the top 2 will move on to tomorrow's final round. Blitzen is ready to go, and off is Blitzen. Blitzen plants and is up in the air. Way up. It's a very good jump for Blitzen. And the Elves are measuring. It's 5,440 feet for Blitzen, just one foot more than Cupid! A very good jump, and Blitzen is in first place!
Donder is next. Donder is approaching, and Donder takes off. It's a very good jump for Donder! The Elves are measuring, and it's 5,491 feet. That's a great jump for Donder, and Donder's in first place! Vixen is the last reindeer for today. This will decided who jumps for the gold medal tomorrow. Here we go! Vixen is ready, and Vixen is off! And it's a great jump for Vixen. But will it be enough? The Elves are measuring. It's going to be close. It's 5,491 feet, and a tie with Donder! Vixen and Donder are tied for first place, and so they will move on to tomorrow's final round.
Check back tomorrow to see which reindeer will win the gold medal in the High Jump at the Reindeer Games!