After some disagreement over the design of the Obstacle Course, a compromise has been reached between Manny Elf, the head of Reindeer Games event construction, and Mendy, the head of the Official Elves. Manny wanted to the Obstacle Course to run all the way around the world, while Mendy wanted the Obstacle Course to remain here at the North Pole.
Well, sometimes compromise is hard to find, but sometimes it also can solve a difficult problem. "I think we have a good solution," says Rudolph. "The course will begin here at the North Pole and make its way, at least part way – but not ALL the way – around the world. That would be too tough on the reindeer. They are not super-human … err … super–deer."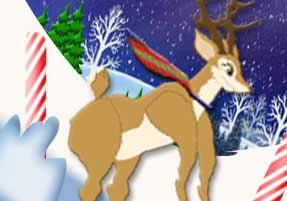 That's good news, and so the Obstacle Course event – our seventh event of the games – will begin right away! In today's first round, the deer will begin at the Hoojamawazit Skating and Ice Cream Palace. (Oh, and by the way – for those wondering about the missing seats at the Palace, the mystery has been solved! Some of Waldo's invisible wrapping paper made its way into the Palace and got stuck on some of the seats. All is well, now.) And so all the seats are filled for the start of the event.
Each reindeer will begin at the Palace by skating the length of the ice backwards, then climbing up a Christmas Tree to the top of the Palace and then climbing onto the roof. Each deer will take off for a short trip to Santa's Workshop Arena, for tomorrow's second leg. Vixen, Blitzen, Dancer, Prancer, Cupid, Comet, Donder and Dasher are ready to go! And each one makes their way through the course very quickly and very well.
The many good folks at the North Pole are happy to see the Obstacle Course action once again, and will see more tomorrow.
Check back tomorrow to see what grueling feats the reindeer must accomplish as they ready themselves for the Big night.