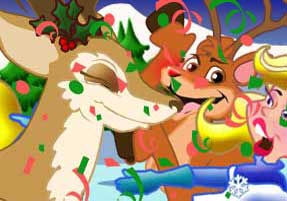 This year's Reindeer Games came to end with the closing ceremonies at the Ice Palace. The Big Eight Reindeer led a parade around the North Pole to the Palace where they were honored for their efforts. The games were fun for all and proved to be very exciting.
"I enjoyed all the events and am proud of my fellow deer," said Rudolph. "I can't wait until next year."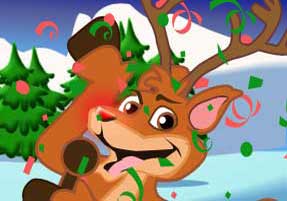 Each reindeer won a gold medal and each finished second one time in the very competitive events. Our gold medal winners are Donder in the High Jump, Comet in the Long Jump, Vixen in the Sprint Race, Prancer in the Around-the-World Marathon, Blitzen in Figure Skating, Dasher in Speed Skating, Cupid in the Obstacle Course, and Dancer in Snowboarding!
Congratulations to all the reindeer on their well deserved victories. Clearly the annual Reindeer Games display the unimaginable strength, stamina, grace and speed of Santa's "Great Eight" and proves to help them prepare for the long journey ahead. "The next BIG event is Christmas Eve," exclaimed Santa as he gazed proudly at his famous deer.
"This special group will surely pull my sleigh to all the homes of good little boys and girls allowing me to deliver all the gifts... and there's a LOT of gifts!" Thanks for following the games with us this year. We hope you will join us again next year as we prepare Santa's magical reindeer for another Christmas journey.