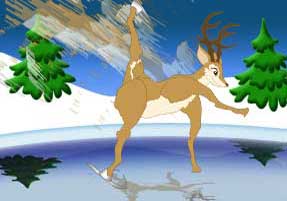 After the four-day, Around-the-World Marathon, Santa's reindeer were a bit tired but nonetheless headed out to the Hoojamawazit Skating and Ice Cream Palace for the first day of the Figure Skating event.
The figure skating will be a four-day event and will crown the fifth gold medal winner of this year's Reindeer Games.
So far it's been an exciting competition with a gold medals for Cupid in the High Jump, Vixen in the Long Jump, Comet in the Sprint Race and Blitzen in the marathon.
After the Figure Skating, the games will continue with the Speed Skating, Obstacle Course and 2222-Mile Marathon events.
The elves packed the Ice Cream Palace for the first day of the event and Rudolph was on hand for commentary along with Peggy Fleming.
"My it was a long trip up to the North Pole," said Fleming. "I'm asking one of the reindeer to fly me home."
The first day was the so-called "compulsories" where each reindeer must do the same tricks on the ice. The elf judges were on hand to provide the scoring.
The graceful Prancer took an early lead as she flawlessly performed all the tricks, including a double appendapulator and a triple snow cone.
"Oh my, Prancer was just perfect," Rudolph said. "She will be tough to beat in this event."
Dancer also fared well in the first round, as did Comet, and they were second and third heading to the next round. Just a few points behind were Vixen, Blitzen and then Cupid, Dasher and Donder.