Welcome to this year's Reindeer Games! As our long-time readers know, the Reindeer Games are a fun event featuring Santa's famous eight reindeer: Dasher, Dancer, Prancer, Vixen, Comet, Cupid, Donner and Blitzen. And the Games also help our famous friends get ready for the big Christmas Eve trip, when Santa's reindeer lead his sleigh full of toys around the world.
The games will help the deer get fast and strong and healthy, and ready for the big ride around the globe. The games are fun too, for the deer and for all the fans.
The Reindeer Games feature eight events to see who's best at each event. Every reindeer tries as hard as they can to win, but is always a good sport and has fun too.
Our games will include speed skating, ski jumping, figure skating, the luge (really fast sleigh rides), the high jump, the long jump, snowboarding and the last and final competition, just before Christmas, the cross-country skiing event.
But before we get started on the competition, it's time for the Opening Ceremonies! We go live to the Ice Palace at the North Pole. Many of the games will be held at the Ice Palace, a really big and beautiful arena, which is packed right now with all our friends at the North Pole! All the elves and helpers and all the good folks of the North Pole are packed into the Ice Palace to see the Opening Ceremonies!
And marching in right now to the center of the Palace are our eight competitors, Santa's famous reindeer, Dasher, Dancer, Prancer, Vixen, Comet, Cupid, Donner and Blitzen. And there's a big cheer for all the deer!
And on the Big Stage is Santa himself with a few words to start the Games.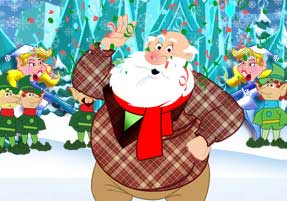 "Welcome everyone here at the North Pole and around the world following the Games on Santa TV and the North Pole Times! We are thrilled that you are following the games and surely it will be a fun and spirited competition.
"I welcome all the Reindeer and wish them good luck. Try hard and do your best every time and you will be a winner always! "And hello to all the boys and girls around the world tuning in. We are so happy you are following the games! It will be a good show!" See you tomorrow, right here at the North Pole Times, for the first event: the speed skating competition!