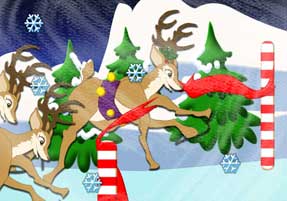 And we're back at the amazing Reindeer Games for the final round of the Sprint Race competition.
Today is the exciting final race between Comet and Blitzen for the gold medal. The special five-mile track is packed for the final race, which shouldn't last too much more than a blazing 3 seconds.
"My my, the reindeer are fast," said Rudolph. "Santa should have no problem reaching every home across the world on Christmas Eve with these reindeer leading the way."
Comet and Blitzen will race side-by-side one time to see who's the fastest deer of all. And they are ready now – and they are off!
Comet takes the early lead but Blitzen noses ahead before Comet sneaks barely ahead and then Blitzen takes the lead again with just 100 yards to go! And at the wire? It's Comet by the tip of an antler for the gold.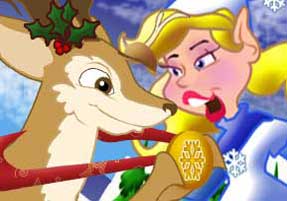 And all that in just 2.93 seconds!
"Wow, a very very good race," Rudolph said. "At least I think so."
Be sure to come back tomorrow as the Reindeer Games continue with our first event outside of the North Pole – the Around-the-World Marathon.