While he was wandering in the wilderness looking for the missing baby Yeti, Waldo heard the beautiful voice. It was Mikee singing a lullaby to baby Yeti! Both Mikee and the baby had fallen into the deep crevasse. Waldo followed the beautiful voice and found Mikee! He had to find a way to save her!
Waldo was standing at the top, looking at the red ribbon, the color of strawberry and mustard pudding, in Mikee's hair. He had to think of something, and he had to do it fast!
There was nothing around he could use to pull Mikee out, not a single branch or stick. Suddenly, something caught Waldo's eyes! He saw Mikee's craft bag! So passionate about arts and crafts, Mikee didn't go anywhere without her bag, not even in the wilderness!
"Mikee, throw me your bag!" yelled Waldo.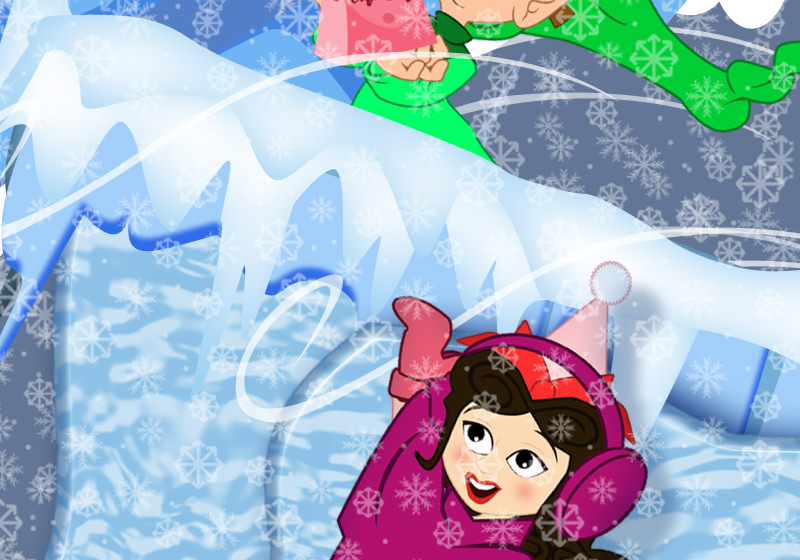 Mikee threw the bag as hard as she could with her frozen arms. Waldo was looking at the crafts bag flying toward him with his hands ready to catch it. It was his only chance to save Mikee. Waldo knew that Mikee must've had something useful in her bag. If he had dropped the bag to the bottom of the crevasse, both Mikee and the baby would've been lost. He would've been lost without her!
Waldo took a deep breath, stretched his arms, and caught the bag!
"You did it!" cheered Mikee.
Waldo opened the craft bag, and among pieces of paper, glue, scissors, and buttons, he found what he needed to pull Mikee out of the crevasse.
What do you think? What did Waldo find? Will it work to save Mikee? What about baby Yeti?Get the latest update TOMORROW on the North Pole Times! #1 in Santa's News! Trusted Worldwide!