Waldo took his Sherlock Junior kit and hurried off to find the mysterious new elf who would surely know who hacked the North Pole.
As you recall, dear readers, a friend request from an unknown elf launched a virus that caused the greatest mess ever! The North Pole was hacked!
Poor Waldo didn't accept the request on purpose. He simply dropped a dab of strawberry and mustard pudding on the keyboard by accident. But no one believed him, and they all blamed Waldo for the mess.
"You're always causing trouble, Waldo!" one elf muttered. "Yeah… and now look what you've done!" snarled another.
With that, dear readers, embarrassed and frustrated, Waldo set off on his quest to make things right.
Most elves wouldn't even dream of joining him, except… "Waldo! Wait for me!" Mikee called out, following Waldo's tiny footsteps in the snow. "I can't let you go into the icy wilderness all alone!"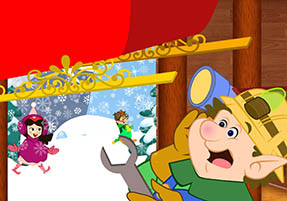 Meanwhile, Gizmo, who was trying to fix Santa's sleigh, heard Mikee yelling in the distance. For the first time ever, Gizmo's skills weren't needed in the village. He couldn't do anything against this virus but might be able to help Waldo and Mikee. He left the workshop and ran as fast as his tiny little legs would take him.
Soon, Gizmo caught up with his fellow elves, and the three of them set out on a mission to find the menace who was actively trying to ruin Christmas.
Although Waldo was happy to have such great friends, he was scared to let them follow him. There are just too many spooky creatures beyond the gates of Santa's Village… and even more dangers. As he was thinking about what to say to them, it started snowing heavily, making it difficult to see.
Suddenly, they heard a roar. A roar so chilling it made the hair on the back of their necks stand up. As it became louder and louder, the ground started to shake. BOOM! BOOM! BOOM! Then, way, way up in the sky, the elves spotted two big eyes peering down at them between the snowflakes.
"Aaaaaaaaah!" they screamed.
What do you think, dear readers? Who, or WHAT, did they see? What will happen to Waldo, Mikee, and Gizmo?
We'll have more updates on this developing story tomorrow; right here on the North Pole Times. #1 in Santa's News! Trusted worldwide!