Waldo, Mikee, and Gizmo were hanging in the cage and looking at the creature below.
As you remember, Waldo, Mikee, and Gizmo were at the castle searching for the mean creature who hacked the North Pole. One by one they disappeared, and then were finally brought back together in a cage hanging from the castle ceiling.
Then they heard a creature below, but it didn't look like creature they were told about. It wasn't six-foot-three at all! It was more like a three-foot-six!
It was said to have sharp teeth, but this creature surely hadn't seen the dentist in a long time—it had at least ten teeth missing! One more thing, the creature had no claws either!
Waldo, Mikee, and Gizmo were sure this creature couldn't be the meanie they were searching for.
But then they heard a squeaky voice, "How dares you speaks like that about I. Who do you think you are?"
Well, dear readers, don't believe everything you hear. It turned out that this creature IS the creature they sought, but the rumors were NOT true.
It seems that the whale, the seal, the snow fairy, and many other creatures at the North Pole exaggerated a bit.
Believe me, some animals, elves, children, and even some adults sometimes spread rumors that are not completely true. But let's go back to the elves and the creature.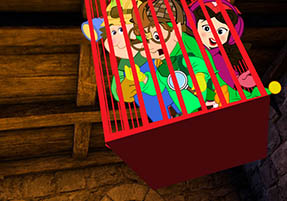 The elves finally found it!
But he got a bit offended because they doubted it was him.
"It is I, Boogerwig, the most meanest of all mean meanies ever!" he squeaked. "It was I to sent the mean friend request and to launched the most meanest virus ever!"
"Why?!" the three elves asked at the same time.
"Because I hates you goodie goodie elves! And hates Christmas too!"
"But why??"
"You wants to knows why? I will tells you why!"
What do you think, dear readers? Why does the creature we now know as Boogerwig hate the elves? Why does he want to destroy Christmas?
We're back tomorrow with the latest updates on this mysterious story. Right here, on the North Pole Times! #1 in Santa's News! Trusted Worldwide!