The skating continues today at the Games.
After Dancer took home the gold in yesterday's Figure Skating event, the first round of the Speed Skating competition is set to begin, once again at the Hoojamawazit Skating and Ice Cream Palace.
Despite the elfian strike, the Palace is packed. And the deer are ready to race.
The Great Eight Reindeer will race around the icy oval at blazing speeds to the delight of the fans, who brought some super-special slow-mo glasses just to see the deer in action. Our special reindeer are so fast, all our fans need some help to see them race.
And we are ready! All eight reindeer are lined up at the starting line – and they're off!
"Oh my, what a start," said Rudolph. "Every deer is moving so fast. I cannot see who's even in first place."
Well, it seems that Comet has taken the early lead with Blitzen just behind. And then it's Dasher and Dancer a few inches back. And finally Cupid, Prancer, Vixen and Donder only a few more inches behind.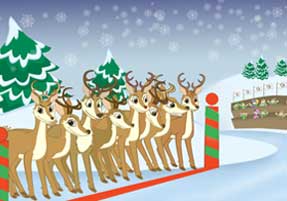 Around and around they go the track at blazing speed while the crowd goes wild with excitement. Heading into the final lap, it looks like Blitzen and Comet have a slight lead over Dasher, followed by Donder and Dancer.
"My, it's close," said Rudolph.
Who will make it to tomorrow's final round? Only the top 4 will make it, and coming around the final turn, it's very, very close. And, wow, all the reindeer cross the finish at just about the same time, just milliseconds apart!
Who are the top 4? Let's check the super-slow mo video machine to see. After further review, it will be Comet, Blitzen, Cupid and Dancer in the final round!
Check back tomorrow to see who wins the sixth gold medal of this year's Reindeer Games!