Toby had spent the whole night coming up with a plan to catch Chris Mouse. He scribbled, rubbed out, then doodled again, making sketches of all the traps he could think of. And when the cuckoo clock chimed in the morning, Toby called a meeting. Still sleepy, the elves gathered around the Christmas tree.
"As you may have noticed, my dear elven friends, there was an incident in our village last night."
An incident?
Huh?
The elves were puzzled.
"Yes, the incident," Toby proceeded, theatrically pacing back and forth. "We have a mouse in our house. Rat, rodent, vermin, call it whatever you want, a little gray animal with floppy ears and a pink tail. But don't let his kind eyes and gentle smile fool you. It's not just any mouse, but a thief mouse."
"Well…," someone spoke up from the crowd, "that was not a thief."
"Who said that?" Toby frowned.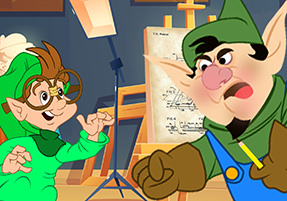 The elves looked at each other, wondering who was brave enough to stand up to the grumpy Toby. They took a few steps to the side and realized, to everyone's surprise, that it was Waldo. Waldo stood there, crouched and shy, his cheeks flushed.
"You were saying...," Toby walked up to Waldo as his thick black brows furrowed into a scowl.
"Well, it-it-it was Chris Mouse," Waldo stammered.
"Who is the thief," Toby added.
"Well, he didn't steal anything. He just had dinner with us."
"And stole the pie," Toby said.
"Well..."
"Enough with Well," Toby snapped. "Maybe you should stay out of it."
Waldo sighed, watching Toby bring in the standing easel covered with a white sheet.
"You will help me to rid the North Pole of this little pest forever. So, I present to you my Master Plan," Toby said and removed the white sheet.
Wow!
You probably want to take a look at the Master Plan. Perhaps we'll be able to show you tomorrow, right here, ONLY on the North Pole Times.
#1 in Santa's News! Trusted Worldwide!