After a not so cozy ride, the elves, Boone, and Randolph were finally at Santa's village.
However, the village was in a mess, REAL mess.
Dear readers, do you remember the mess that made Waldo, Mikee, and Gizmo set off to find the meanie? Well, now, it was even worse.
The other elves had tried to get the village back to normal, but it was getting worse and worse.
Instead of steam coming out of the chimneys, there were icy waterfalls! There was no pleasant smell of Mrs. Claus's fresh-baked cinnamon cookies!
The Appendapulator was making the toys nonstop, the workshop was full of boxes, but they were all wrong.
The elves have only one week until Christmas, but nothing seems ready.
"Me mean virus did this?" Boone was shocked. "Me family was right. Me always makes a mess."
Well, Boone wanted to make a mess, but this was much more than he had ever planned. It seems that things got out of control.
"This too much even for Boogerwig! Boone fix it!" Boone cried.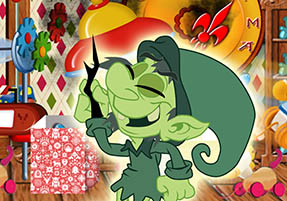 "Quickly! To the computer room!" Gizmo shouted.
Gizmo, Boone, Waldo, and Mikee ran into the computer room.
Boone stood in front of the central computer that controls everything in Santa's village. It was out of order. The commands switched on the screen as if someone or something had controlled it remotely.
The virus seemed more powerful than Boone could imagine. It wasn't the virus he had created. Something else had happened… but what?
"Will me magic work?" Boone asked.
"You can do it! I believe in you," Waldo said.
Boone took something that looked like a black twig out of his pocket. He waved it through the air, then touched the computer saying, "Boogey, Boo, Boo, Boom!"
Waldo, Mikee, and Gizmo looked at the screen. Even Randolph peeked through the window to check what would happen...
What do you think? Will Boone's magic work? Will he fix the computer?
Keep reading the North Pole Times to find out.
#1 in Santa's News! Trusted Worldwide!