Alright my friends, I'm back and you already know it's my favorite day of the week! You remember what day that is right? Of course you do, it's Terrific Task Tuesday!"
Once again, Santa and I were at the globe again and our fingers landed on an amazing place: Salzburg Austria! Did you know one of my favorite movies was made here? It's called 'The Sound of Music.' The town is charming with rolling green meadows, historical buildings and castles. I've never seen anything like it…well other than the movie that is.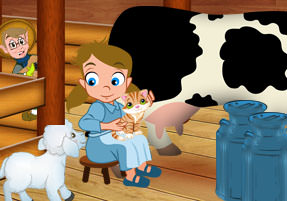 This week I went to see a young girl named Julia. Julia is a wonderful little girl. Julia lives in a beautiful farmhouse in Austria overlooking a gorgeous lake. She lives with her parents and her brother and 2 sisters who are all younger than her! Julia often times helps out with the chores around the farm. She offers to help her father milk the cows and feed the horses and she even watches her brother and sisters when her mom has chores to do outside. Julia's parents never have to ask her to do any of these things and they're so proud of how helpful she is around the house.
I can't wait to tell Santa about Julia and her incredible attitude! She definitely deserves something special under the tree.
Well guys, that's it until next week! I'll let you know where I end up and until then, keep doing Terrific Tasks!
'Til next Toomer Time,
Toomer