Welcome back to the Reindeer Games. Our final day of our final event is here.
We're not sure that Santa will be back to the North Pole in time for Christmas, but our reindeer will. The reindeer are headed back from Schenectady, New York, on the final leg of the 2222 mile marathon and have almost reached the North Pole.
Coming over the horizon and into the final stretch are all eight, almost antler to antler. This is an interesting battle as Dancer leads Donder by a nose with Blitzen coming on fast. It's going to be a close finish!
Heading to the finish line, though, it looks like Blitzen has a taken a slight lead putting Dancer is second place with Donder in third. And that's what it will be. Blitzen wins the final gold medal of the games with Dancer coming in second followed by Donder in third.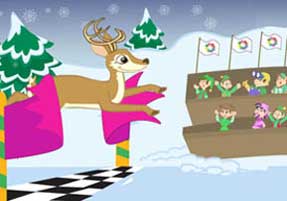 And that'll do it for this year's Reindeer Games. All the reindeer have competed well and are now in prime shape for the Big Night.
"Well this is interesting" says Rudolph. "Mrs. Claus has just called Dasher and Comet over to the sidelines. It appears they are being asked to rescue Santa and Waldo from the shuttle in space. What a great idea sending two of Santa's fastest reindeer, who can easily jump over the moon, into space in an effort to save Christmas."
Check the North Pole Times tomorrow to see if they're successful and for the closing ceremonies of the Reindeer Games.