Dear readers, Merry Christmas!
I know you can't wait to read Santa's letter. Yes, Santa wrote it just for you as he always does.
But first I need to tell you what happened at the stroke of midnight on Christmas morn.
The story that follows is hard to believe, but true.
At the stroke of midnight, Boone pulled the red ribbon off his tiny present and opened the box as Santa had instructed.
An intense beam of light shot out into the Christmas sky. It was so intense that it appeared to punch a hole into the heavens. As the hole grew larger and larger, Boone heard a voice calling out, "My little Boo!"
Yes, it was the portal opening to Boone's homeland.
On the other side stood the whole Laug Emel Galadrim tribe along with Boone's entire family. His many brothers and sisters; his grandma and father. Standing in front of them all was his mom. "It's time to come home, dear."
Then, as magical as Santa's flight on Christmas Eve, Boone transformed back into little Boo, the young and clumsy Warm Heart Elf boy he was on that Christmas Eve so long ago.
Waldo, Mikee, Gizmo, and Randolph watched in wonder as their new friend got a second chance at childhood.
"Mommy!" Little Boo yelled as the magic of his now-warm heart took him towards the portal.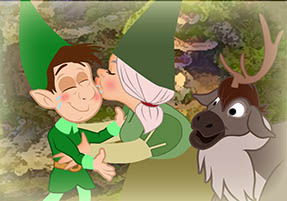 With his head held low and teary-eyed, Randolph The One-horned Reindeer, was saddened to see the only friend he ever had, was leaving him. But he was happy to see him rejoin his family.
When little Boo reached the other side, he whispered something into his mom's ear as she held him tightly in her arms. "Of course, dear." she replied, smiling.
"Randolph!" Boo yelped. "What are you waiting for?!"
Randolph's head popped up, his tears dried, and a big smile spread across his face.
"Those magic corn kernels should have just enough juice left to get you there." Gizmo said with a smile.
And just like that, Randolph leaped through the portal just as it was closing.
"Love you guys!" Boo screamed as the portal shut and disappeared.
As the bright beam of light vanished, Santa smiled somewhere on his way to your home. He knew little Boo was finally happy and loved as every child should be.
And now, my dearest readers, enjoy Santa's letter.
Until the new season, let your warm hearts guide you.
Santa's Letter
Ho – ho – ho! Merry Christmas!
My dearest children,
I hope you like your presents. As you witnessed, it wasn't easy for my elves to prepare them this year. They had a hard time with that computer virus.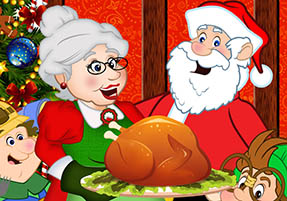 Yes, computer viruses might cause a real mess, so be careful on the Internet. If you get a friend request from a strange person, remember what happened to poor Waldo. One second almost destroyed Christmas! Always check with a grown up.
You also saw what happened to little Boo. Everyone gets angry at times, but don't let that anger fill your heart.
Whatever happens, always keep your hearts warm. As you've seen, the magic of the Warm Heart can do wonders.
Thank you so much for the lovely treats for me and my reindeer. Now it's time for a special treat. Mrs Claus is combining Christmas dinner with the Thanksgiving dinner we missed out on this year. Ho, ho, oooh my!
See you next year!
Ho – ho – ho!
Love,
Santa