Santa had just had a wrinkled piece of paper dropped into his hand by a Yeti. As everyone knows, Yetis--also known as abominable snowmen--are fierce creatures of the Arctic plains. But what very few people know is that Yetis hold a secret desire--they like to deliver mail! Especially to Santa Claus.
This particular Yeti didn't have to trek all the way to The North Pole to deliver this letter, though (Although it was a letter he delivered at Thanksgiving that started everything off--read the earlier stories to find out how!), because Santa and Holly Elf had tracked him here from The North Pole. The Yeti had given Santa a letter from Dolores Flemspackle, and now, he had one from Waldo Elf, the strangest little Elf at the North Pole!
Santa read the letter aloud. "Dear Santa. How are you? I am fine, except of course that I've been taken with Ajax and Scooby to someplace. I think the Yeti knows I'm here, but so far, I've been able to stay unvisible."
(For those of you who are reading this who don't happen to be Elves, you should know that Elves do not have the ability to turn invisible. If something is invisible, it means that it can't be seen. Elves can be seen, but they are able to make people think that they haven't seen them. It's called being unvisible, and Waldo does it very well. -ed.)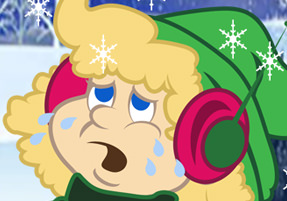 Santa continued reading. "The Yeti plans to give us to Dolores Flemspackle. I'm not sure what she wants with the reindeer, but I'm going to stay with them to see if I can find out. I'll try to send you messages, and if I think it's safe, I might make myself not be unvisible to some boys and girls. I hope you get this message. I want to come home. Especially for Saturday, when it's meatloaf night.
"Your friend, Waldo Elf."
Holly Elf sniffed back a tear. "He always knew how to write a good letter," she said. "And he's right. Mrs. Claus makes great meatloaf on Saturdays!"
Will Santa be able to find the reindeer? Will Waldo be spotted by any sharp-eyed kids? And will Mrs. Claus put extra mustard in her meatloaf like she sometimes does? Keep reading to The North Pole Times to find out!