The elves needed to repack the toys into the right boxes, but time was running out.
As you recall, dear readers, the virus was finally deactivated, and the Appendapulator stopped making the wrong toys but had already made too many.
Boone, who transformed into a handsome Warm Heart Elf, stopped to admire his new looks and caused poor Waldo to trip and end up on a pile of boxes.
But Waldo's clumsiness had a good side. Although he smashed a few boxes, he discovered that the toys were indeed from Santa's list, just packed in the wrong boxes.
The elves had to repack the presents correctly, but that would take time. Too much time.
Gizmo had an idea!
"The Presentator!" Gizmo screamed. "I hope it still works!"
Dear readers, the Presentator is a present-switching machine Gizmo invented long ago when the elves faced a similar problem with Christmas presents (as you can see, our elves often face problems).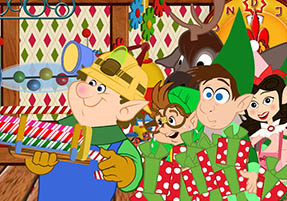 The Presentator switched presents inside boxes that were already wrapped.
Now, the elves can use it again to swap the presents into the right boxes!
Oh, what a great idea!
"Let's turn it on! There's no time to waste!" Mikee said with excitement.
Gizmo pushed the button, and the Presentator started switching the presents seamlessly. It worked! A wonderful blue light glowed around the boxes and switched the toys inside! Barbie dolls switched boxes with Ken dolls, tablets with mobile phones, and dolls with plush toys!
"There are so many wrong boxes," Mikee shouted looking into the warehouse filled wall-to-wall and floor-to-ceiling with presents. "Will the Presentator be able to switch them all on time?"
"Let me check," Gizmo said, then started calculating. "Let's see… if you take the amount of presents and multiply by the amount of time it takes… then divide by the time left until Christmas Eve..."
Mikee, Waldo, Boone, and Randolph looked at Gizmo's notes. They couldn't wait to hear if the presents would be ready by Christmas Eve.
The happiness of all the children around the world now depends on the Presentator.
What do you think, dear readers? Will the Presentatorswitch the boxes on time? Will the presents be ready by Christmas Eve?
We're back tomorrow with the answers - I hope.
We're #1 in Santa's News! Trusted Worldwide!